From John Travolta in Pulp Fiction, Matt Bomer in White Collar, Bruce Springsteen in Tunnel of Love to Johnny Depp during his Lone Ranger premiere red carpet appearance, bolo ties have been donned by all iconic males who have been inspiring the attractive male scale since forever. Undoubtedly, native American bolo ties are one such statement piece that will stay unique to men. Practical, rugged, and elegant, this official neckwear of Arizona, Texas, and New Mexico is an accessory that keeps every western outfit fashionable and trendy.
If you are fond of the rugged, manly look, well, investing in native American bolo ties for sale is something you must consider. Although many people get skeptical at first, you will be surprised how a piece of cord or braided leather with metal tips embellishments with a decorative clasp or slide can channel the masculinity in your outfit that you are looking for.
---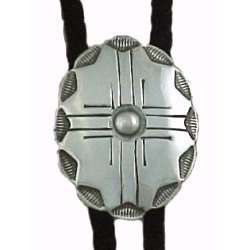 ---
LOOK FOR INTERESTING CENTERPIECE DESIGNS
Although it might not seem significant at first, the design of your centerpiece placed on the slide can make a lot of difference for your outfit. Rather than playing safe and settling for monotonous, dull round options, do not hesitate to play with whirling styles, star design, snake-jaw-inspired or floral cuts.
SILVER CONCHO ON THE GO
Silver is a versatile and gorgeous concho choice. Whether you are attending a formal event, going for an after-party, or simply out for a casual outing, silver conchos go with everything. Native American bolo ties come with a turquoise setting to complement the white, lustrous metal that makes for an eye treat.
DETAILS MATTER
Invest in handcrafted native American bolo ties. The best part about these statement pieces is that they are irreplaceable and carry a unique essence with artisanal craftsmanship. Apart from the concho, the bolo side and the quality of the tie matter too. Make sure the material is of top-notch quality only. Plus, it's not attractive to look at a bolo tie with a gorgeous centerpiece but worn-out ties.
GET CREATIVE WITH STYLING
Apart from wearing a bolo tie traditionally; you can also try some interesting and not-so-conventional styles. Don't hesitate to get creative with your styling and break a few rules of the fashion lookbook. You can also keep it hanging loosely by the neck or wear two bolo ties at once (one loosely hanging and the other clad around your neck. Wear it as a bracelet around your wrists or undo the top few buttons of your shirt for a carefree, bohemian look.
And above all, own it like you mean it! Many men tend to refrain from wearing bolo ties thinking it might look goofy or awkward. However, once you don them, you will soon realize how much of this primo style you might be missing out on. No wonder how this one accessory has survived through the timeline of rockabilly revivalists, new wave artists, and movie celebrities. If you are ready to spruce up your closet with some bolo action, our extensive inventory of affordable, handcrafted, vintage-style bolo ties will definitely not disappoint you.
Before we close this blog, we just want to say that keep experimenting and find what works for you. Here's to a stylish, festive season's greetings!