Tiger Eye
Tiger Eye Bolo Ties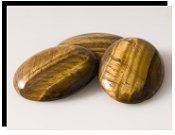 Tiger Eye is black with iron oxide staining which gives it yellow and golden brown stripes. When it's cut into cabochons, that iridescent undulating luster (chatoyancy) is as hypnotic as the eye of an actual tiger.
Tiger Eye is said to assist in focusing the mind. Roman soldiers wore Tiger Eye amulets as protection during combat.

Click on the item title or image for detailed product information.
---