Dalmatian Jasper
Dalmatian Jasper Bolo Ties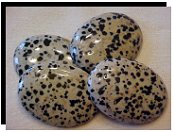 Dalmatian Jasper is an opaque, white to cream colored jasper, spotted with brown and black.
Dalmatian Jasper is said to aid memory retention and development of psychic ability. Jasper is also said to help us release our tendencies to over think or over analyze things.


Click on the item title or image for detailed product information.
---