Blue Onyx
Blue Onyx Bolo Ties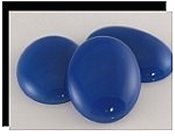 Onyx is a natural earth stone that is a type of chalcedony or microcrystalline quartz. Blue Onyx is onyx that has been artificially enhanced to become a deep blue.
Onyx is said to promote vigor, strength, stamina and self-control.
Click on the item title or image for detailed product information.
---