Our Products
Our Bolo Ties
All of our bolo ties are hand assembled with careful attention to quality and detail. We use only Grade A or better stones in our products. Each cabochon is carefully inspected before assembly to insure high quality in each and every bolo tie. Our manufacturing process allows us to provide top notch merchandise that will please even the most discerning customers.

We use a wide variety of cabochons and other components in our bolos. We import only the highest quality, natural agate and semi-precious stones from around the world. We do not use man-made or glass stones with the exception of Goldstone, which we carry at the request of numerous customers. Our natural stones include, but are not limited to, Turquoise, Black Onyx, Lapis Lazuli, African Jade, Malachite, Tiger Eye, Blue Lace, and many types of Jasper and Obsidian.

Our slide settings are available in silver, gold, and copper colors. Tips are available in the same wide range of options, as well as sterling silver and gold-filled.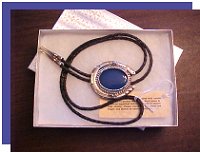 We are also very proud to say that most of our slides and tips are manufactured in the US!

We use genuine leather and suedette cords in a variety of colors.

With so many options in cabochons, slides, cords and settings, our capability to manufacture a wide variety of bolo ties is endless!

Each bolo tie comes to you attractively packaged in a foil gift box.

Please take a moment to browse through our wide selection of bolo ties. For more information on our ties or to place a custom order, please contact us.




Some of our satisfied customers:
Allen Block Corp.
American Ex-Prisoners of War
Best Western Hotels
Boston Scientific
Boy Scouts of America
Calgary Stampede Showband
Coldwell Banker Real Estate
Eastern National
Holiday Inn
Independent Stave Company
Lexmark
Marriott Hotels
Harry Munroe (World Record Holder, Knife Throwing)
Raising Hope, Fox Television
Seattle Seahawks
Silvia's Costumes, Hollywood
Society of Laparoendoscopic Surgeons (SLS)
Susan G. Komen Race for the Cure, North Jersey
Texas Steakhouse
Triple Love Productions (Big Love, HBO)