Chrysanthemum
Chrysanthemum Stone Bolo Ties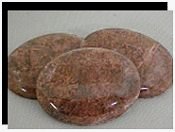 Chrysanthemum stone is named for the unique patterns embedded in the stone that resemble flowering chrysanthemums. It is mahogany colored with lighter, flower-shaped bursts of color.
Chrysanthemum Stone is known as a stone of harmony and change. It is thought to promote the renewal of old friendships. Its message is 'Enjoy each moment!'


Click on the item title or image for detailed product information.
---