Russian Serpentine
Russian Serpentine Bolo Ties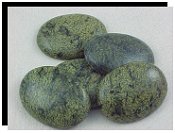 From Russia's Ural Mountains, Russian Serpentine is an olive green gemstone with a black matrix pattern and is sometimes referred to as "green snowflake." The stone has an appearance that reminds many of snakeskin.
The word "Serpentine" comes from the Latin "serpens", or snake. Russian Serpentine is thought to be named after a serpent, for its smooth and brilliant surface is like that of a snake.
Russian Serpentine is said to balance mood swings and encourage the ability to solve conflicts by peaceful means.
Click on the item title or image for detailed product information.
---