Leopardskin Jasper
Leopardskin Jasper Bolo Ties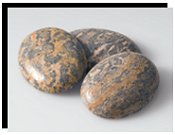 Leopardskin Jasper is a patterned form of Chalcedony which is considered to be one of the quartzes. Leopardskin Jasper has a golden-tawny background with patterns in red, brown and black.
Leopardskin Jasper is said to assist with mental processes and creative visualization.


Click on the item title or image for detailed product information.
---