Pyrite (Fool's Gold)
Pyrite (Fool's Gold) Bolo Ties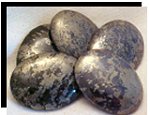 Pyrite, more commonly know as "Fool's Gold," is an iron sulfide or iron disulfide mineral. It is pale, brassy yellow in color.
Pyrite derives its name from the Greek term
pyrites lithos
, (stone which strikes fire), a reference to the sparkling produced when iron is struck by a lump of pyrite.
Pyrite is said to be an aid in mental activity by balancing creative and intuitive impulses and is said to improve memory, concentration, learning and understanding. It is considered to be a shielding stone, preventing negative energies from entering and altering physical, emotional and mental aspects.
Click on the item title or image for detailed product information.
---