Blue Lace
Blue Lace Agate Bolo Ties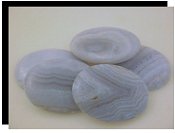 Blue Lace agates are a form of chalcedony (which is microcrystalline quartz) that is infused with iron. The agates are finely banded in medium blue, light blue and white coloring.
Blue lace agates are said to enhance grace and lightheartedness. They are described as soothing stones known for calming the mind, releasing stress and removing anxiety.
Click on the item title or image for detailed product information.
---