Amber
Amber Bolo Ties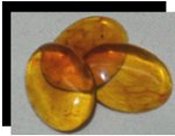 Amber is fossilized tree resin, over 50 million years old. Our cabochons are manmade from small pieces of genuine baltic amber pressed together in a golden resin.

Early physicians prescribed amber for headaches, heart problems, arthritis and a variety of other ailments. In ancient times, amber was carried by travellers for protection. In the Far East, amber is the symbol of courage; Asian cultures regard amber as the 'soul of the tiger'; Egyptians placed a piece of amber in the casket of a loved one to ensure the body would forever remain whole.
Click on the item title or image for detailed product information.
---