Howlite White Buffalo
Howlite Bolo Ties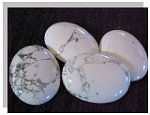 Howlite is calcium-silicon borate with hydroxyl. It is named for Henry Howe, a 19th century mineralogist who first found it in Nova Scotia. Howlite is soft white with a spiderweb pattern of fine black lines.
Howlite is sometimes referred to as "White Buffalo" or mistakenly called White Turquoise, but it is not Turquoise.
Howlite is said to enhance memory and promote trust, openess and discipline.
Click on the item title or image for detailed product information.
---