Aventurine
Aventurine Bolo Ties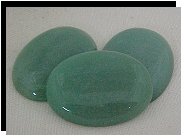 Aventurine is medium green with a metallic iridescence caused by green mica inclusions. Green Aventurine is a member of the quartz family that forms when quartz is subjected to heat and pressure, causing it to melt and resolidify with other minerals as inclusions. These inclusions in green aventurine are fuschite mica, hematite and pyrite. This is how the color is formed, and shades of green can vary from very dark to very light.
Aventurine is considered a healing stone to soothe a troubled heart or calm distraught emotions. Aventurine is known as a lucky stone. It is said that if one holds aventurine in both hands while envisioning prosperity, money and good luck arrive at one's doorstep!
Click on the item title or image for detailed product information.
---