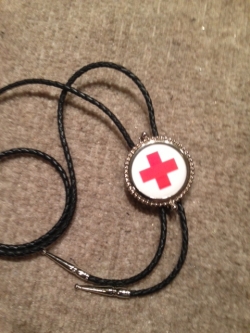 Tired of the same old silk neckties? Or looking for chic neck accessories to style with just about any outfit? Hop on to the Bolo tie bandwagon to stand out from the crowd and make a remarkable style statement. Wondering whether a Bolo tie is for you, or not even sure what a Bolo tie is? Well, you don't need to tie yourself up in knots over this one! We have it sorted. Read on to know more about the much-in-trend Bolo ties.
What is a Bolo Tie?
A Bolo tie is a necktie which has essentially three parts - a cord, cord tips and a decorative clasp. Sometimes also referred to as bola ties, cowboy ties, shoestring ties or bootlace ties, they mainly originate from Western United States. The cord is generally made from braided leather, often in varying shades of black or brown. The ends of the cords are capped with metal or silver tips to lend a polished look. The most stunning and eye-catching part of the Bolo tie is undoubtedly the clasp, slide or pendant. It comes in an astounding variety of shapes, sizes and materials ranging from the affordable wood or metal slides to the luxurious gemstone pendants.
Already wooed by this quirky ornamental accessory? Here are a few reasons to make you pick one soon.
Can be Paired with Anything
There is no right or wrong way of sporting a Bolo tie. It is a versatile accessory which can lend class to a formal outfit or sass to a casual one, depending on how you style it. You can pair one with a formal collared shirt just like a conventional necktie, or wear it with any top, shirt or jacket like a necklace. Flaunt your gemstone or silver Bolo ties at weddings or festive occasions. And ladies, don't be left behind! If you have assumed that Bolo ties are not for you, kindly consider sporting one with a flowy dress on your next brunch outing. You can thank us later for all the appreciative glances!
Perfect for All Seasons
A Bolo tie can be styled with a number of outfits, in any season. It pairs equally well with a breezy tee in summers as it does with jackets and coats in winters. Experiment with your style by choosing Bolo ties in unique, intricately-crafted patterns.
Endless Options for Customization
All the men out there, the next time you find yourself reaching out for that mundane and cumbersome silk necktie, think of all the options we've listed above. The ways in which Bolo ties can be customized are literally infinite! You can choose your own design, company logo, college badge, family photography, favorite superhero, cartoon, animal or anything under the sun for the clasp.
Looking for custom Bolo ties? Contact us for the best Bolo ties for both formal and casual wear. Rocky Mountain Western offers a distinct collection of classic Bolo ties, custom engraved Bolo ties, logo print Bolo ties, and many more designs that can be customized as per client requirements. We will help you get that perfect accessory for every occasion. Regardless of whether you are fond of sterling silver embellishments or tan leather fringes, we can get the final piece adjusted according to your taste. Our team of designers has an eye for detail and is expert in the art of giving a personalized touch.