There is nothing like adding a few accessories to spice up an everyday look. Fashion accessories like bolo ties are pieces that are chosen to add the finishing touches to an outfit and elevate it to the next level.
Although they have their own functional use, bolo ties are often used to complement an outfit and make it look more put-together. They allow you to breathe new life even into the old standbys in your wardrobe, whether it is a white shirt that you bought five years ago or a denim jacket that you've worn only once.
Here are a few tips for accessorizing with a bolo tie and make even your most basic outfit look stylish and elegant:
1. Use the bolo tie to complement a focal point of your outfit
One of the tricks to style a bolo tie, or any accessory for that matter, is to use it to draw attention to a focal point in your outfit. For instance, if you are wearing a white shirt with silver cufflinks that you are eager to show off, you can wear a silver-tipped bolo tie to complement the cufflinks. Also, make sure that the design of your bolo tie does not clash with any other detail in your outfit.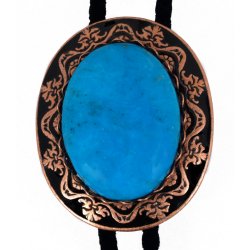 2. Keep your outfit simple and crisp
Want your beautiful turquoise bolo tie to be the star of your look? Keep the rest of your outfit simple. No matter if you are wearing a formal suit or a Canadian tuxedo, you should avoid picking colors or prints that might overshadow your bolo tie. This handcrafted Midwestern accessory looks best when paired with muted and neutral tones.
3. Wear your bolo tie as a statement piece
Bolo ties are unmatched when it comes to adding visual interest to a look. For this reason, you should wear it as a statement piece. Make sure any other accessory you are wearing, whether it is a ring, a bracelet or a watch, is understated and does not eclipse the unique beauty of your bolo tie. Moreover, when you wear too many pieces with a bolo tie, it can easily make your outfit look too busy.
4. Wear a bolo tie in a style that matches the tone of the occasion
An intricate wire design bolo tie encrusted with turquoise might look great for a party, but it would be a faux pas in more somber occasions like funerals. When choosing your bolo tie, it is important that you consider the tone of the occasion and pick a tie that best matches that. There is a wide variety of bolo ties out there, all featuring a myriad of styles and made using different stones. And that means finding a tie that is occasion-appropriate is easier than ever.
Looking for turquoise bolo ties for sale? Check out Rocky Mountain Western's collection of men's turquoise bolo ties as well as an array of other stunning handcrafted styles.