There are only a couple of months to the 4th of July, and we are already feeling the excitement. After all, we have been a free country for more than two centuries. Most people show their patriotism on July 4th by waving the Stars and Stripes and pledging allegiance to the nation. But there is more that you can do!
From honoring the sacrifices of our brave soldiers who fought and sacrificed their lives for our great nation to wearing patriotic bolo ties to show your love for the country, there are many ways to celebrate the 4th of July.
While waving the flag is a heartfelt way of showing patriotism, let's pledge to do more. This 4th of July, express your patriotism in these ways:
1. Do Something to Support a Veteran
We all are genuinely thankful to the veterans for their service to the nation. Go the extra mile to say 'Thank You' through your actions.
If you know the family of a veteran who served in any war, take some time and lend them a helping hand. Get a gift basket for them, mow their lawns, do the grocery shopping, or run to the pharmacy for them. Sit with a veteran and talk to them. They will appreciate a meaningful conversation. Get a thoughtful present for them, like army bolo tie(s).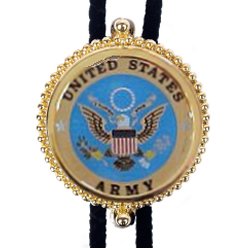 If you do not personally know any veterans, get in touch with your local assisted living community or Agency on Aging to see how you may contribute to the 4th of July celebration for their veterans.
2. Wave the Flag Correctly
Most people may not know it, but there are proper guidelines when it comes to handling and displaying the flag. There exists a Federal Flag Code that lists these guidelines.
You can also help a veteran show their pride for the country by installing a flag display for them.
3. Wear a Patriotic Bolo
Want to show your love for the country while looking stylish? All you need is to put on a patriotic bolo tie!
Choose from our selection of elegant army bolos. It is a great way to show your patriotism and support for the army personnel and military soldiers. Our bolos feature the United States Armed Forces' insignia and emblems, among other patriotic symbols.
4. Never Forget to Vote
If you honestly love the country, there is no better way to express and honor that love than voting. When you cast your vote, you are upholding the principles upon which the United States of America was built.
5. Serve on a Jury
To most people, this may seem like an unnecessary inconvenience, but it is a practical way to honor the nation. Look at it as something that adds to the greatness of our nation.
Now that you know what else can be done than waving the Stars and Stripes to express patriotism, it is time to prepare for the 4th of July. Check out our premium armed forces ties and patriotic bolos, and buy your favorites!