The American West's beautiful lands have given us so many things, and bolo ties happen to be among our favorites. If you share our love for vintage movies and cowboy fashion trends, you will always be ready to invest in another pair of bolos to add to your accessory collection.
Bolo ties, considered a classic fashion accessory, are great to perk up a boring outfit. You can even make your bolos for that unique personal touch. We will provide the cords, clasps, and strings, basically all the bolo tie parts needed for a custom project!
Real-life cowboys, Hollywood stars, hip-hop artists, football players: bolo ties have adorned many necks. Now, the big question, how to take this classic symbol of western fashion and dress up your favorite outfits? Here are some tips that will help: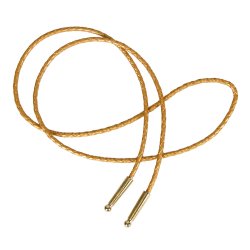 1. Keeping it casual and chic
While suiting up has its own charm, girls love their casual outfit days way too much. Whether it is about looking effortlessly cool and adding some style to your casual attire or lending a casual tone to a somewhat formal outfit, a bolo tie is all you need.
Wear your bolo tie loosely around your neck, and it will give your outfit a casual accent. Accessorize your casual ensembles with a custom bolo, and turn heads wherever you go for an incredible fashion sense!
You can make bolos of different styles with endless cord and slide combinations. Take a look at our extensive collection of bolo tie cords and bolo tie clasps; ideas will start popping.
Do you want a casual bolo tie outfit inspiration? A denim jacket, skinny jeans, vintage peasant top, Stallion boots, and a concho style bolo; there, you have a killer casual-chic look. You will look as cool as James Dean!
2. Going the unconventional way
Bolos are neckties, but who says you cannot wear them as a necklace or a choker?
When you want to put on a dressy outfit but also want to wear your bolo tie, adorn your bolo with a twist. Be the trailblazer! Be the rock star! Trust the classic cowboy bolo or the arrowhead style bolo to add soft gravitas to any outfit you pick, from your prom dress to your interview day suit-pant.
3. Let's not forget the traditional bolo look
Confidence and class, two things a bolo tie will instantly add to your suit. No wonder men love wearing bolos everywhere, from weddings to business events! The trend has become popular with the ladies as well.
Wear the bolo with a collared shirt buttoned to the top. Let your hair down or put it up in a bun; you will look great either way. So, when you feel like bringing in some country flair to the formal attire, pick up a bolo and put it around your neck. We recommend a black Onyx bolo tie!
Styling tips are done, now is time to make some custom bolos. We will get all the parts, from bolo tie string and cords to bolo tie clasps, while you check out our video tutorials to get started.
4. Never Forget to Vote
If you honestly love the country, there is no better way to express and honor that love than voting. When you cast your vote, you are upholding the principles upon which the United States of America was built.
5. Serve on a Jury
To most people, this may seem like an unnecessary inconvenience, but it is a practical way to honor the nation. Look at it as something that adds to the greatness of our nation.