If there's one accessory that embodies American spirit and ingenuity, it has to be a bolo tie. Practical, tough, and elegant, bolo ties essentially adorn a braided leather cord with decorative metal tips and secured with an ornamental clasp or slide and have seamlessly made their way into everyday fashion. This official accessory of Arizona, New Mexico, and Texas serves as a reminder that perhaps it's time to ditch the traditional ties for a bolo tie.
Inarguably, one of the most statement pieces of American fashion, bolo ties can be worn in a myriad of ways, from a laidback casual look to a more sophisticated business casual look. In fact, wearing a bolo tie with your otherwise boring outfit is a great way to add an extra dimension to your ensemble.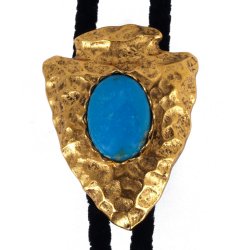 Bolo Ties- An Accessory That Symbolizes Western Renaissance
Perhaps a few decades ago, you wouldn't have thought that wearing leather chords embellished with a semi-precious gemstone such as onyx, turquoise, and jade would qualify as fashion unless your roots were in Southwestern America. Also known as cowboy tie or shoestring neckties, these made their way back into the fashion industry during the 1980s when they were adorned by rockabilly revivalists, Hollywood celebrities, and hip-hop artists. In fact, major luxury brands such as Prada, YSL, and Versace jumped on the bolo tie revival bandwagon as they featured this traditional accessory in their catalogs.
Styling Bolo Ties- From Traditional to Contemporary
Although bolo ties are conventionally associated with Western culture and fashion, it is their versatility that renders them their ubiquitous appeal. By simply swapping your necktie for a bolo tie, you can easily dress up or dress down an outfit. For instance, if you want to add a little jazz to your outfit, you can simply slip on a turquoise bolo tie, which is nothing less than a thing of beauty.
If you're looking for inspiration to style your bolo tie, we have got you covered!
The Traditional Look
Typically, bolo ties are worn like any other necktie, over a crisp, well-fitted suit. When worn with confidence, a bolo tie makes for a perfect accent to spruce up your suit, while infusing it with a touch of western aesthetics. Also, bolo ties with a large clasp go well with both broad and narrow collared shirts, but for smaller bolos you might want to stick with a narrow collared shirt.
The Contemporary Denim Look
To style your bolo tie as a casual accent, you can either pair it with a blazer and a pair of jeans, but if you want to go for a more laid-back look, you can easily swap the blazer with a denim jacket. To add extra depth to your ensemble, you can unbutton your shirt and loosen up the clasp till the third button of your shirt. Although there are a plethora of polarizing views on this look, we believe it makes for a perfect brunch look.
Now that you are aware of the versatility that bolo ties offer, it's time to add some Texan flair to your outfit. If you're looking for turquoise bolo ties for sale, browse through the wide collection at Rocky Mountain Western.