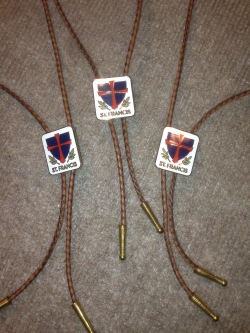 Officially worn in Texas, Arizona, and New Mexico, bolo ties are greatly appreciated across the country. If you have recently come across Bolo ties, or you have been admiring them for ages and never wore one, that's alright. Today, we are going to walk you through the details of how to wear a bolo tie with perfection and make everyone go crazy.
But before we move any further, you should know that you can also get custom-made bolo ties. What's more, they are also known by different names such as bola tie, cowboy tie, shoelace tie, and many more. So the next time someone mentions string ties or cowboy ties to you, do not get confused. The best thing about a bolo tie is that you can wear it in indefinite ways and elevate your look. Whether you are attending a family gathering, your best friend's wedding, or just want to go fishing over the weekend, you can easily slay in a bolo tie.
The three ways to don a bolo tie are as follows:
The traditional bolo tie look

This look boasts an elegant look, and its vintage design steals the show. You can easily wear the traditional bolo tie to any formal and semi-casual event such as your business meetings, weddings, etc. Having that said, you shouldn't forget to trim your beard to make sure the world can notice your tie. If you are looking forward to an unmatched western look, you can pair the traditional bolo tie with your suit and a button-down shirt.

The casual bolo tie look

As the name suggests, the casual bolo ties are easily one, and while wearing them, you can be experimental. Unlike the above-mentioned traditional bolo tie, you can wear the casual bolo tie like a necklace with any of your outfits. Consider wearing a button-down shirt and skinny pants to achieve the vintage casual look.

The modern bolo tie look

This look is a unique fashion staple that could be quickly transformed into a choker and necklace. To effortlessly transform your modern bolo tie look and make a choker or necklace out of it, you just need to tweak the cord or clasp of the bolo tie slightly. This look will make you look like a chic diva. You can also consider wearing modern bolo ties with ankle-high boots and casual dresses.

Now that you know almost everything about different types of bowler ties and what they are, you can experiment with almost any of your outfits. If you are a beginner and want to experience wearing a polo type without tweaking its style statement, consider pairing it with jeans and a western shirt. And that's not it; you can also wear your favorite bolo tie in so many ways.
Bottom line
In reality, there is no proper way to wear a bolo tie. The sky's the limit. If you are looking for custom engraved bolo ties, get in touch with us today to find unique options.