The denim on denim look never goes out of fashion, but getting it right can be a bit tricky. Ace it, and your OOTD will get you abundant compliments. Mess it up, and you end trying to pull off a double denim nightmare.
While you may have put together a flawless double-denim ensemble in your mind, executing the look may feel like a daunting task. BUT, avoiding a major fashion faux pas is easy if you are aware of the dos (like accessorizing with a custom bolo) and don'ts (like saying no to denim accessories).
We have listed a few tips to help you make a style statement in two of your favorite pieces of clothing from your wardrobe.
---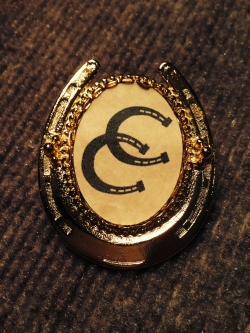 ---
THE DO'S
1. Play with colors
If you are a beginner, start with pairing different shades together rather than donning shades of blue from head to toe.
Black jeans with a chambray shirt and a blue denim jacket will be a nice denim-on-denim pairing! Another look that you can rock is a darker-wash chambray shirt with crisp white denim. Accessorize with a Howlite cabochon custom bolo and brown boots for a chic finish.
2. Distressed details for the win
Distressed denim is a great choice when you are creating a denim-on-denim look. Throw an oversized ripped jacket (denim) over a white shirt, and it will work with everything, from boyfriend fit to mom jeans. The jacket will lend a slightly edgy yet relaxed look.
When going with this look, stick to one distressed denim item.
3. Accessorize for the look
Who said denim-on-denim only creates a casual day look? With a little accessorizing, you can fashion the perfect evening ensemble with your denim pieces. So, bring out your custom bolo tie collection, statement heels, and that stylish clutch.
If you are looking for style inspiration, you can pair your high-waisted black jeans with a silky black cami top and a denim jacket, just a little oversized. Put on your black strappy heels and a silver concho bolo tie. And, you have an unexpectedly chic evening ensemble.
THE DON'TS
1. Avoid denim accessories
From thigh-high denim boots to denim handbags, denim accessories are a thing of fashion, but accessorizing with these when you are already adorning a denim-on-denim outfit will be overkill.
So, just stick to denim clothing and say no to denim shoes, handbags, or hats.
2. Don't overdo the Wild West look
For fashioning an elegant double denim look, you can definitely draw inspiration from the Wild West, but don't overdo it.
Custom engraved bolo ties will elegantly add a Texan flair to your attire without overblowing things out of proportion.
3. Avoid the same shade head-to-toek
You want to create an effortless double denim look instead of looking matchy-matchy.
One exception to the rule is when you put on a denim jumpsuit. You can style the denim jumpsuit with a statement bag and funky boots.
Signing Off
Now you know how to put together a WOW denim-on-denim ensemble!
For accessorizing the look with chic custom bolo ties, do browse our selection of premium bolos.
If you have something one-of-a-kind in mind, we can also customize bolo ties for you and your loved ones.