Synonymous with Western American fashion since the early 1900s, bolo ties actually began as a Native American accessory. Today, they serve as a great statement piece for a fashionable and elegant western-inspired outfit. Practical and incredibly sturdy, this accessory, although traditionally associated with men's fashion, can be worn by women too.
Outfit Ideas Using Bolo Ties
Bolo ties can be paired with different outfits to highlight your individual style, but it is important to keep in mind that they are a classic, simple accessory that is best worn with a simple outfit. You don't have to go all out with your western look (think cowboy boots and hats) to do justice to the history or heritage of the bolo tie. You can wear them with your t-shirt too. Yes, that's right. Bolo ties are not meant to be worn only with stuffy suits or denim shirts. Just because it has the word 'tie' in it, it doesn't have to be fancy. Even with basic everyday looks, wearing them is an easy way to add a fun, quirky flair.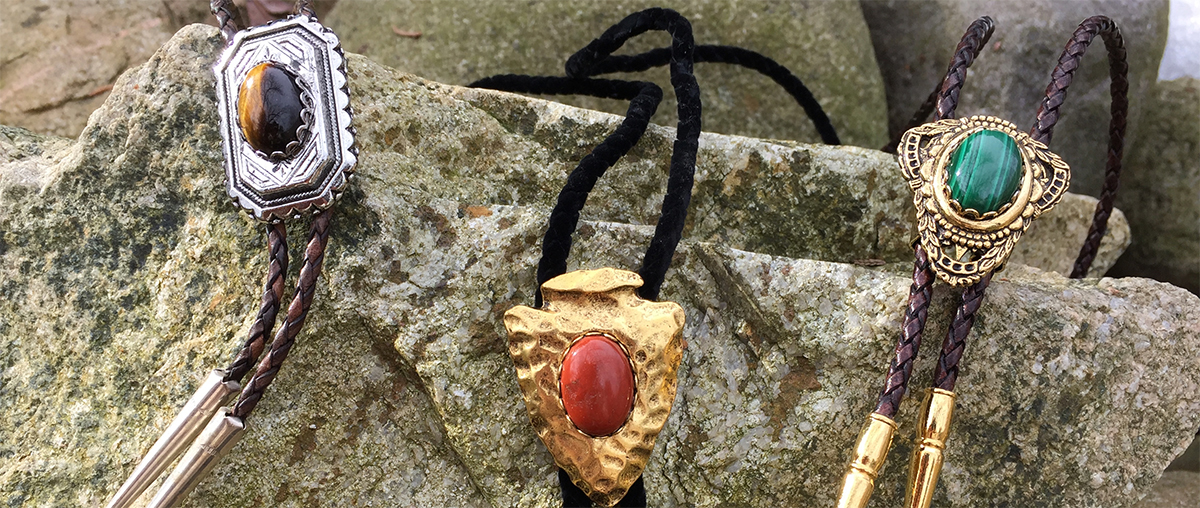 Need some inspiration? Here are a few t-shirt outfit ideas using bolo ties:
1. The faux turtleneck look
Who doesn't love turtlenecks? But alas, it is virtually impossible to wear them during summer. A better and much cooler alternative is wrapping a silk scarf around your neck to create a faux turtleneck. The scarf, easy to take off when it gets too hot, also adds color and texture to your t-shirt and jeans look. You can tuck your bolo tie underneath the scarf, allowing the clasp and the excess cord to hang out
2. Casual but fun
We all have that t-shirt and jeans look that we throw on when we want to look but not like we put in a lot of effort. How about you elevate it a little more by adding a bolo tie to the mix? Instead of reaching out for your regular jewelry, whether it is a dainty chain or earrings, wear a bolo tie for a more unique twist to an otherwise super casual outfit.
3. Western with a twist
While you don't need to go all "yee-haw" with your western look, you can surely create a more inspired but simple outfit. All you need is your favorite t-shirt and a matching vest. Wear them with your jeans and sneakers or boots, and to add the finishing touch, wear a bolo tie. While the vest to add a pop of color to the whole look, the bolo tie will, well, tie the look together. You can match your shoes to the color of the cord on the tie or the stone. This will make the ensemble more cohesive.
When wearing a bolo tie, there are a few things you should keep in mind. Some of them are:
1. Match your bolo tie to the rest of your accessories, whether it is a bag, watch or even your shoes.
2. Avoid wearing your bolo tie with loud prints and colors as it will be overshadowed by them.
3. Like we mentioned, do not overdo it with the western theme. If you do want a modern cowgirl look, limit the pieces to just two or three.
Want to buy bolo ties online? Rocky Mountain Western is your go-to destination for the best bolo ties in an assortment of styles. We are a bolo tie shop offering a wide variety of ties in different setting and with different stones. Shop now.