Who said bolo ties were obscure or a thing of a past? If anything, these ties are now making a stronger comeback that even The Wall Street Journal cannot stop raving about. If you are bored of those silk ties and want to experiment with your style, we think it's time to add bolo ties to your wardrobe.
Bolo ties are the official neckties of Arizona, New Mexico, and Texas and are sometimes referred to as cowboy ties or shoestring neckties. These ties are typically made from braided leather, adorned with metal tips and a clasp. You can get creative with clasps and rock bolos featuring inlaid gemstones like turquoise and onyx.
---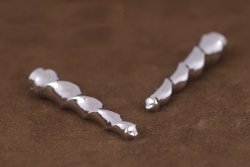 ---
The Return of Bolo Ties
Perhaps a few years ago, you wouldn't have thought slipping leather strings over your neck with a gemstone clasp would qualify as fashion unless you were from the Southwest region in America.
As we know them today, Bolo ties find their roots in the 1940s and 50s and can even be traced back to the early 1900s. They were a common accessory among the Zuni, Hopi, and Navajo men who often wore bandanas held together by strings or shell-like structures. By the mid-80s, bolo ties started gaining popularity when famous personalities like Bruce Springsteen & Issac Asimov started sporting the accessory.
However, the 90s saw the withering away of this trend.
Considering the cyclic nature of fashion, bolo ties are finally making a comeback. In 2020, celebrities like Nick Jonas, Dylan Sprouse, and Bruno Mars were seen sporting the accessory.
Styling Tips For Bolo Ties
Match the cord to your belt and shoes
You might be familiar with the rule of thumb of matching your shoes with the belt; add to this the bolo tie cords. Doing this will ensure that your entire ensemble is put together and looks coherent. So, for instance, if you are wearing black boots and a black belt, make sure you choose a bolo with a black cord.
Match the Metals
When it comes to styling jewelry, it is recommended that you match your metals. So if your entire ensemble has tints of silver, make sure that the clasp you choose is also the same. While you can mix metals for an experimental look, you should be strategic about it. So if you mix gold and silver, make sure your outfit has some element that brings together the silver and gold.
Avoid Sneaker and Shorts
Bolo ties are as versatile as they could get. You can pair them with business casuals and even formal wear. While there are no rules when it comes to fashion and styling, there are certain styles that just don't go well together. One such style is wearing a bolo tie with shorts and sneakers.
Don't Overdo it
Unless you are looking for a typical cowboy look, we wouldn't recommend going all out with your southern style by wearing your bolo tie with a fringe jacket and a cowboy hat. For a contemporary look, you can wear your bolo tie with your collared shirt with black denim.
Looking for bolo tie supplies wholesale? Reach out to Rocky Mountain Western for a unique collection of bolo ties.