Handmade turquoise bolo ties are a thing of beauty, and are greatly valued for their intricate designs and fine craftsmanship. But over time, your tie can become tarnished or look discolored. There may also be instances when it is in need of repair, which is something that may be impossible for you to do without damaging the piece. So, before you try your hands at some DIY bolo tie cleaning or repair hacks, there are a few things you should know. Let us look at some of the ways in which you can take care of your turquoise bolo ties and keep them looking as good as new for a long time: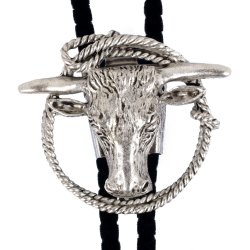 Do not use chemical cleaners or silver polishes on your turquoise bolo tie

A very common mistake that turquoise accessory or jewelry owners make is using chemicals to clean the item. Avoid doing that. Because not only can the chemicals damage the stone but also the sterling silver. You should also avoid using chemical silver polishes, and even if you do, be vary careful to not get it on the stone because the acids in the polish can alter the color of the stone as well.

Store your bolo tie properly

Store your bolo tie in a safe place, and never leave it unattended at a place where it is exposed to the elements as well as to children and pets. The best option is to keep it in a jewelry box or any other airtight container. Avoid keeping multiple pieces in one box as the stones may get scratched. Also, make sure you lay them flat so that the cords do not curl.

Take your bolo tie off when you perform certain household chores

To keep from having to worry about causing any harm to your turquoise bolo tie, you should take it off in case you decide to engage in any household chore, whether it is doing the dishes or gardening. While gardening can get dirt into the crevices of the tie, doing the dishes can expose it to water as well as the chemicals in the dish soap.

Avoid getting your bolo tie wet

You should avoid submerging your turquoise bolo tie in water or any other liquid. Exposure to water can cause the sterling silver to become unevenly oxidized. The water can also degrade the glue or whatever substance is holding the stone in place, causing it to fall off. The leather cord can also get damaged.

Get the bolo tie cleaned and repaired professionally

If you lack the expertise, you should always get your bolo tie cleaned and repaired by a professional. They will be able to do the task without causing any damage to the piece. Should you decide to do it at home, consult a professional and get the right supplies.
Now that you know how to take care of your turquoise bolo ties, want to try your hand at a fun bolo tie do it yourself project? We have all the supplies you need, including finished bolo tie strings. Shop for bolo tie cords, tips, slides, glues and adhesives and more, only at Rocky Mountain Western.