Adorning a bolo tie is akin to making a chic fashion statement. Walk into a room wearing an Indian bolo tie; you will be noticed by one and all. It is not just an accessory but also a great conversation starter. You can style it casually and ace the bolo look with formals. You can wear it to weddings and office meetings.

A simple yet very stylish and distinctly Western adornment, the Indian bolo tie has not only established itself as a fashion accessory with red carpet appeal, but it also is a canvas for skilled artists to showcase their talent. Most people equate bolos with cowboys, but many of us don't realize that these ties are usually made by skilled Native American artisans! The next time you pick out a bolo to finish your look, know that that length of braided leather decorated with stunning metal tips you fasten around your neck is also beautiful work of art. Let's call them wearable art!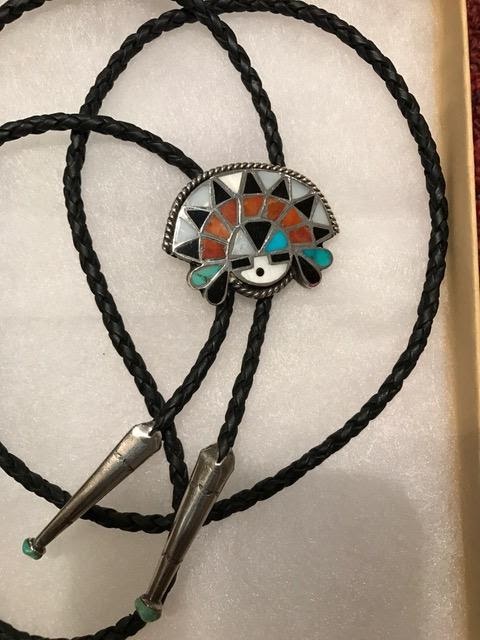 Bolo ties and the American West
The bolo tie is an integral part of the American West culture, particularly in places like Texas, Arizona, Oklahoma, and New Mexico. Native American tribes come to mind when we think about bolos. So, there are Navajo bolo ties and Zuni bolo ties. But this cultural attribute is also common to both Hispanic Americans and Anglo-Americans. When you look at things that bind the West together, you can not leave the bolo tie.
You love how bolos instantly make your outfit look fab from drab, but do you know when this widely adorned accessory made its entry to the fashion scene? It happened during the 1940s, inspired by the Victorian era's slide necklaces and the scarf slides of cowboys.
Legend around the origin of bolo ties
Pinpointing the exact origins of bolos is often shrouded in myth and legends. In the 1940s, an Arizonian man, Victor Cedarstaff, claimed to have invented the bolo tie. He went on to get the design patented in the '50s. A legend goes that one day when he was riding his horse, he dropped the cowboy hat he was wearing in the mud. He did not want to ruin his silver-trimmed hatband, so he slung it around the neck. A pal complimented his 'tie' that gave him the idea of creating the bolo tie!
Bolo ties and fashion
The Indian bolo tie clearly caught on as an accessory. There were times when the popularity declined a tad, but it keeps making comebacks. Various designers added the bolo tie to their runway collections in 2014. Philip Rivers, San Diego Chargers quarterback, made bolos his postgame neckwear. And we all remember Macklemore and Bruno Mars adorning them to the Grammy Awards.
For Navajo bolo ties and Zuni bolo ties, do check out the collection of Rocky Mountain Western!