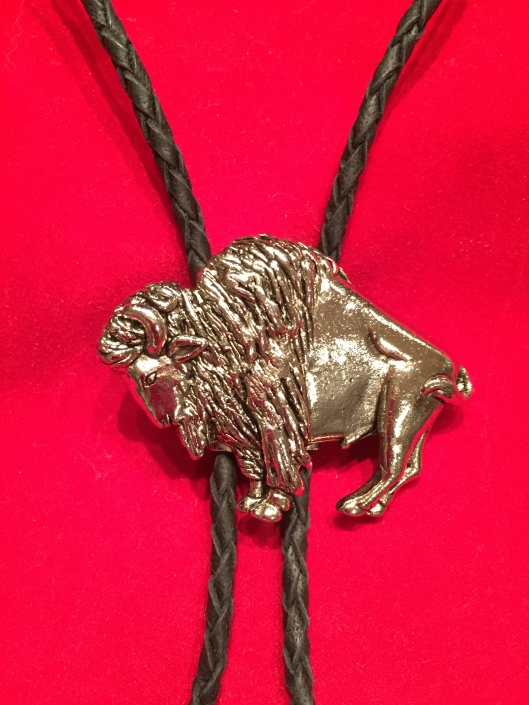 A western tie doesn't always have to be knotted in a man's neck. Since classic bolo ties which are the official necktie of Arizona, are not confined to western cowboys today, it can be said today that women can also experiment with western ties as they have with manly jeans, tuxedos, and ties.
So, as a carefree woman, if your mind is once again excited to include Bolo western string ties in your wardrobe, it's time to turn it into reality and read on further to start your Bolo tie adventure.
Reinvent yourself with the classic western string ties that are as raw and crude as the native Americans in Arizona who created them. So, get carefree, get rugged with the western ties in your neck and feminity in your hair.
Unleash the real authentic self with rustic western string ties that are created with unique and flamboyant studs.
But remember, classic bolo ties are simple, and overdoing should not be your intention. Add a little flair to your style to make the classic bolo tie pop out but not much!
Let's unveil three accessories you, as a woman, can pair with the traditional western bolo tie without further ado.
Hat

A hat goes perfectly with a western string tie like a soulmate. The pairing gives you the authentic and classic Arizona cowgirl look, which is intimidating and easygoing simultaneously.

Are you the girl who is as carefree as the running water flowing down while tapping on every stone coming it's way? Cool! On your next outing with your carefree friends, grab and adorn your hat on your head, and roll out bolo western string ties to look as hypnotic as water!

Hair Charms

Hair charms are funky and colorful. Are you the one who adorns her hair like the civilians in the Victorian era? Well, braids are made for hair charms or the other way. Whatever it is, a western bolo tie, when paired with the marvelous and cute little studs known as hair charms, elevates your look manifold.

Are braids your go-to hair styling? Remember to wear the western tie on your neck before stepping out!

Ugg Boots

Ugg boots are as classy as the western bolo tie. Not only are these boots classic, but they are cozy because of their snuggly fit. Have you ever imagined completing the ugg boot look with the ethnic bolo western tie? Well, now you can pair this authentic, bold, classic ornament with the colorful and comfortable ugg boots and tap your feet joyfully.

Are you the one who keeps the world on its toes? Well, it's time to include the Bolo western string ties in your gang and take the final call to dominate the world like a cowgirl kicks the equine!
Conclusion
Western bolo ties are open for women because the fusion is going and taking place rampantly around the globe. Don't be hesitant! Do your bit!
Welcome these strong-headed bolo ties as a member of your wardrobe and flaunt them with pride since they deserve all the appreciation in the world.
Rocky Mountain Western is the dealer of all authentic bolo ties that, without fail, provide a western touch to your casual or formal attire.