Back in the days, traditional ties were in demand and were widely worn by almost every other man across the globe. Lately, the fashion choice has been changing. Rather than the old-school ties, many are switching to bolo ties. Itís a fashion statement now. We want to look good by presenting an appropriate fashion statement. If youíre one who tends to go out of the box when it comes to fashion, then a bolo tie such as armed forces ties might be exactly for you.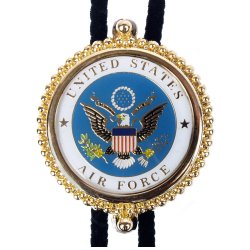 Before you put on any outfit, take a moment to understand how bolo ties work on each outfit. Today, you even have the option to level up your tie-game and combine it with your love for your nation. Sounds patriotic much? Thatís exactly what weíre talking about here. ARMY BOLO TIE(S) has emblems of the United States Armed Forces and other patriotic symbols. Thereís no better way than depicting your patriotic self. Read on to know how you can style these patriotic bolo ties in the most fashionable ways possible.
1. Buttoned Up Collar Shirt
Unarguably, the best way to wear any bolo tie is on a buttoned-up collar shirt. So, if youíve got your hands on armed forces ties you can look stylish and maintain respect for patriotism at the same time. The way youíd present a bolo tie will reflect your persona. Keeping that in mind, accessorize your uniquely designed tie on a crisp and well-ironed shirt that embraces its overall appeal. The neater you go, the more it will stand out!
2. Suit Up
Formal wear can never go wrong when it comes to any kind of ties. Even a bolo tie looks extravagant on formal wear suits that include blazers, shirts, and pants. However, itís vital to be attentive towards color combinations according to the emblem on the tie. Suits look excellent and professional plus you can always pair them with patriotic bolo ties if youíre seeking a country-oriented look. Itís sure to catch the eyes of many once you enter an event.
3. Complete the look with shoes
Last but not the least, shoes eventually completes the whole outfit youíre going for. The bolo tie youíll put on will be the center of attention; nonetheless, the correct pair of shoes is still important especially when the event is of great importance. Choose among the color of shoes depending upon the color of your pants and bolo tie design. If youíre stuck between numerous options, pick out either black or brown, because these colors are compatible with almost every other outfit.
Making a fashion statement can be a task yet not impossible. Why not incorporate armed forces ties into your different outfits and amaze the viewers like never before. Now that the ways for styling bolo ties are out there, check out the collection available at Rocky Mountain Western online. If you research properly, youíll find that there are many reasons why people, nowadays, prefer to wear bolo ties. Hop onto the fashion trend by picking out the preferred bolo tie those appeals to you and the others the most.