Custom Bolos
Custom Bolos with YOUR DESIGN -- Company or Organization Logo or Family Crest. Even a Photograph -- Loved One, Favorite Horse or Pet. Here are just a few of the projects we have completed. Let's discuss YOUR PROJECT. Contact us at Phone: 866-442-BOLO (866-442-2656)
Email: rockymountainwestern@gmail.com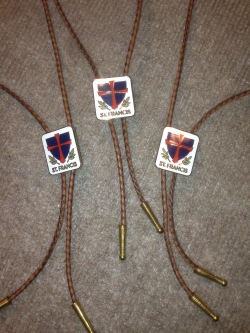 St Francis School Custom Bolo
We made a large number of these for lower school graduation at St Francis School in Houston. Design is in cloisonne.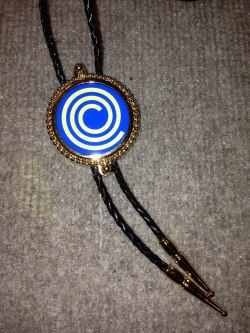 Clock Spring Custom Bolo
Corporate logo bolo. Price $40 for the first unit. Additional units are less.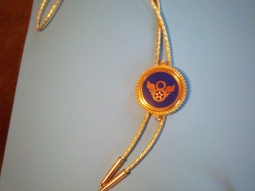 8th Air Force Custom Bolo
This was made from a photo of a patch from a WW2 veteran. Price $40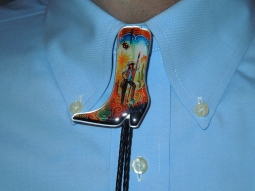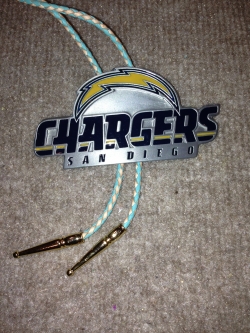 Chargers Custom Bolo
Bolo Tie made from San Diego Chargers belt buckle. Cost about $35.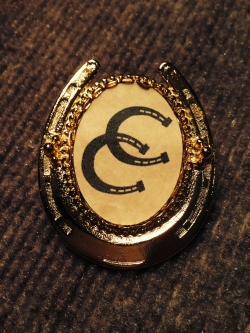 Crew Construction Custom Bolo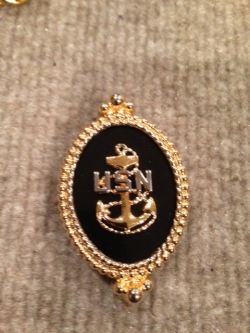 Navy Pin Custom Bolo
Custom piece done for United States Navy officers in Virginia. They supplied the anchor pin and we did the rest. Fitted in an oval gold finish bezel on a black leather background. The final product used braided black leather cord and gold tapered tips (not shown). We really enjoy doing pieces like this for active or retired military.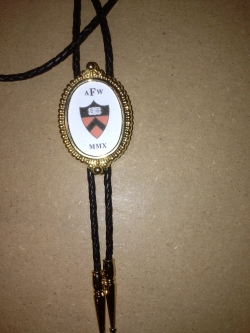 Princeton Custom Bolo
This was a gift from a young man to his brother, a Tiger alum. To make this and similar bolos, we grab the logo off the web, fit it to the gold bezel, print it on high quality photographic paper and seal it in plastic. With this process any image can become a bolo.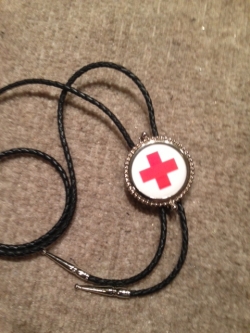 Red Cross Custom Bolo
Bolo made for a dedicated Red Cross volunteer. We grabbed the logo off the internet. Price about $40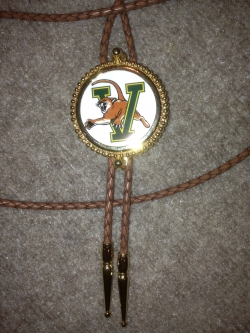 University of Vermont Custom Bolo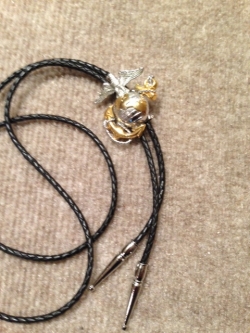 USMC Custom Bolo
Custom made USMC bolo that we crafted for a retired Marine. Bolo features an authentic USMC pin from the customer. Braided black leather cord and tapered silver tips.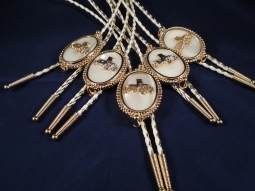 Custom Shriners Bolo - Tin Lizzie
Custom tie for Shriners. Tin Lizzie on Mother of Pearl and special gold and white cord.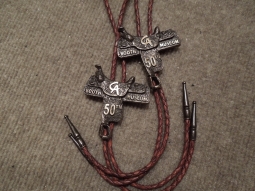 Booth Museum of Western Art
The saddle design was created by a famous Western artist. We used those cast saddles elements and assembled the 100's of bolos for a fund raising gala for the Booth Museum of Western Art in Georgia.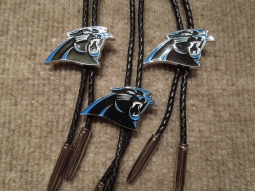 Carolina Panthers
Carolina Panther themed bolos. Custom made by Rocky Mountain Western for customer using offical NFL KEY CHAIN elements. Bolo features black braided leather cord and bullet style tips. About $40 each.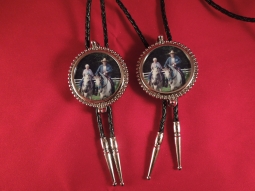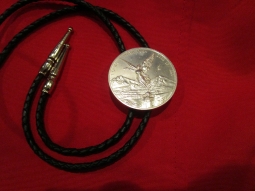 Mexican Silver Coin
Bolo made from a gorgeous Mexican silver coin. Customer supplied the coin. Price about $30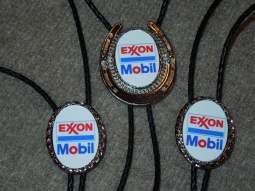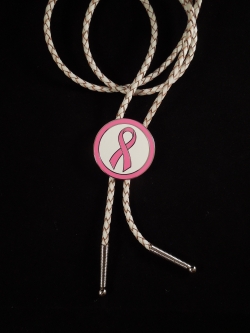 Breast Cancer Bolo
Support the fight against breast cancer and show solidarity with those who fought and are fighting this disease. Logo elements is 1 1/2" (38mm) in diameter.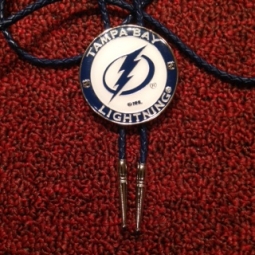 Tampa Bay Lightning Bolo
Price about $40. This was a gift from brother to brother, a big fan of TB Lightning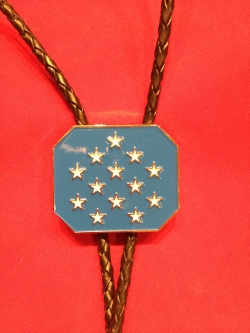 FREQUENTLY ASKED QUESTIONS
1. How long does it take to complete a project?
If you just need just a few (approximately 1 to 12), we can ship your order in a day or two after we have good "artwork" (the digital image) in hand. A large quantity (like 50, 100's or 1000) will take much 2-3 weeks because the process to make the bolo element is more involved and the assembly is labor intensive.
2. How much does a custom bolo cost?
Custom jobs run between approximately $12 and $25 per unit depending on quantity and "design". By "design" we mean (1) the bolo element (printed, enameled, silk screen or cloisonne), (2) cord (leather or suedette), (3) tips (budget or premium) and (4) clasp (bezel, disc or tension). Contact us and we will quickly quote your job. We can work with you to cost reduce your job but still give you an excellent result.
3. What are the requirements for artwork?
For a small project (1-12 units) we need an image that can be framed well in a round setting. The bezel (frame) is 39mm in diameter, the size silver dollar. So the image should still be visible at that scale. For large projects (50 or more), we can do any shape element and any size. Most corporate or organization logos work very well.
4. Can YOU create the artwork?
Not typically. But sometimes we can work with you to find an image online that works. It's amazing what a Google search will find.